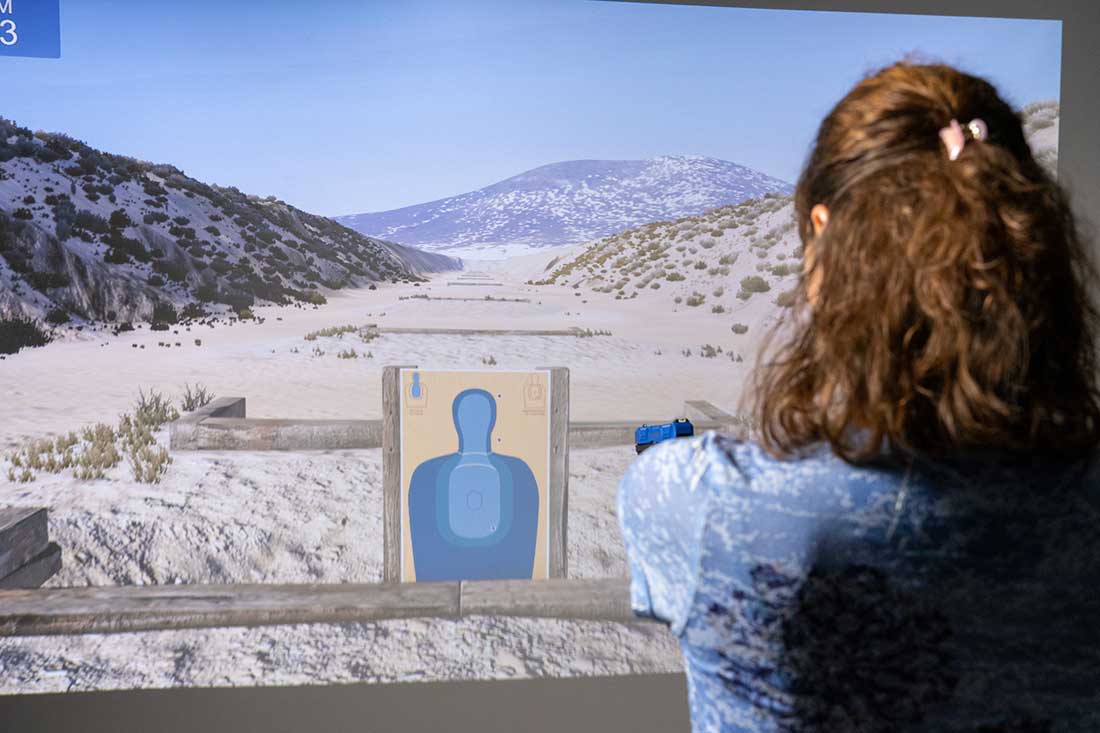 The interesting thing about traditional shooting ranges is that everyone goes for a different reason. But, whether it's to improve marksmanship, gain self-defense skills, blow off steam, or have fun, the experience is the same. When it comes to live-fire shooting ranges, the scope is extremely limited.
So, what's a better option? A virtual shooting range.
Top 10 Benefits of a Virtual Shooting Range
As technology continues to evolve, the options for gun owners and enthusiasts are growing. Virtual shooting ranges are an ideal alternative to traditional ranges because they can transform to suit each visitor's specific objectives.
There is NO live-fire - One of the biggest fears for first-time shooters and novices is being in an environment with live-fire. You get the experience without the gun powder, loud noises, and fear of live ammunition at a virtual shooting range.
Safe from accidents caused by ill-trained gun owners - You've heard about accidents happening at gun ranges, and unfortunately, it does happen. With a virtual simulator, everyone is safe and can feel comfortable in their surroundings.
Judgment-free atmosphere - Live-fire ranges can be intimidating. Most people are serious shooters and don't want to be bothered with novices or first-timers. A virtual shooting range allows each person to learn at their own pace in a safe, comfortable, and supportive setting.
Low-cost alternative - Buying live ammunition can add up. If you are working on particular skills, frequent visits to the gun range can quickly add up. Sim guns offer the same look and feel as a live-fire gun, without the expensive ammunition. You can even experience the same kickback, and shots are registered within nanoseconds.
Train for real-world scenarios - The scope of a traditional gun range is limited to target practice. The virtual screens at a virtual shooting range transform to help each visitor gain skills that interest them most. Grow confident with real-world home invasions, law enforcement training scenarios, and competition-based shooting simulations.
Military-grade hardware and technology - A virtual shooting range is nothing like laser tag. These shooting simulators utilize military-grade hardware and state-of-the-art technology to allow visitors to engage in realistic scenarios and gain real-world skills.
Safely practice how to draw from a holster - Again, live-fire ranges are very limited in what they allow guests to practice. It's a dangerous environment, and they have stringent rules. At a virtual gun range, you have the ability to practice skills you wouldn't ordinarily be able to test out.
Unique form of entertainment - Shooting a gun is on a lot of people's bucket lists. But, they are too intimidated to enter a live-fire range. Virtual shooting ranges offer a safe and fun way to get introduced to gun handling. Test skills by shooting zombies, prairie hunting, or competing with friends in timed target practice.
Test out different types of guns - If you don't have the luxury of owning multiple types of guns, a virtual shooting range is a good way to experience the feel of a pistol as well as a semi-automatic rifle.
You can improve over-time - While you can definitely improve from frequent visits to a traditional gun range, with a virtual gun range, you can easily track your improvements and continue to challenge yourself with the countless scenarios available through the technology.
One of the very best things about a virtual shooting range is that it's an inclusive experience and welcoming of every skill level.
Test Your Skills at Engage Virtual Range
Engage Virtual Range was created with one goal in mind - to educate anyone willing to learn about the fun, empowering, and unique experience of shooting a gun. We invite you and your friends to learn more about our offerings and to schedule a session. Book online today.