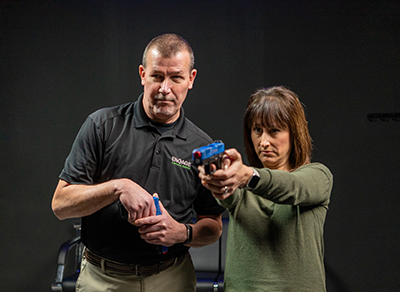 Guns can be a polarizing issue, but no matter where you stand on the spectrum of gun ownership, knowing how to use, handle, and operate a gun safely is an essential skill. As gun sales continue to rise in the United States, we're ending up with more and more people who have guns that don't know how to use them effectively.
At EVR, we believe learning to shoot a gun is a vital skill that everyone should have. In fact, our virtual gun range was founded based on providing a safe, educational, and judgment-free facility where individuals of all skill levels could learn to shoot a gun responsibly.
A gun is only as dangerous as the person using it, and we aim to teach the key fundamentals of handling a gun, shooting a gun, and focusing on building the confidence necessary to be a responsible gun owner.
Learn to Shoot: Why it is Important
Learning to use a gun can be more rewarding than you think. Even if you have never held a gun in your hand, once you master the fundamentals of properly handling and shooting a gun, your entire outlook can change.
One of the most important aspects we focus on in our gun training classes at EVR is that learning to shoot a gun can teach responsibility and discipline with practice. We believe that almost anyone is capable of learning how to safely and accurately shoot a gun. Through our available training sessions, individuals of all skill levels can master the basics and beyond to grow their confidence and skill level.
Learn to Shoot: What EVR Offers
As gun ownership continues to rise, we have expanded our course offerings to tailor our classes to suit every level shooter.
Just some of the unique classes we offer to help you learn to shoot include:
If learning to shoot is something you've always been interested in, we encourage you to enroll in one of our upcoming classes. It is our goal at EVR to help you through every step of your journey from novice to confident gun owner.