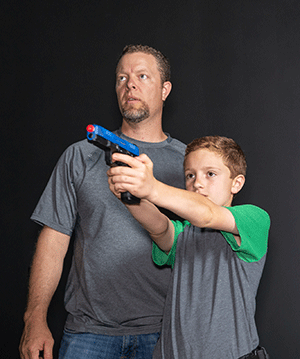 First things first, have you ever been to a laser tag arena? Engage Virtual Range is nothing like that. While elements of a virtual shooting range are designed to be fun and exciting, the experience you will have at EVR is significantly different than a video or arcade game.
Engage Virtual Range is a simulated live-fire range. It offers gun owners and enthusiasts the tools necessary to learn and fine-tune skills in an environment that supports learning, follows virtual range rules, and removes the obstacles associated with learning to shoot traditional gun ranges.
With virtual shooting, there is no gun to clean, no paper targets or ammo to buy, no loud noises, and no concern about the people around you. You get to use life-like guns with authentic recoil in interactive scenarios, exercises, and training modules.
Engage Virtual Range is a safe, judgment-free zone for everyone, from novice shooters to expert marksmen and women.
Is a Virtual Shooting Range Right For You?
One of the unique aspects of a virtual shooting range is its accessibility. Top athletes use virtual shooting ranges and simulators in shooting sports and elite law enforcement officials and special forces. A virtual range is also the ideal location for introducing guns, shooting basics, and gun safety for those who might shy away from the severity of a traditional live-fire gun range.
For competition shooters and gun enthusiasts, a virtual shooting range offers a valuable supplement to traditional gun ranges because of the accurate scoring, dynamic targets, and the ability to hone skills that are otherwise inaccessible in certain areas. Socially, novice shooters can benefit from the non-judgmental environment, the unique safety aspects of a virtual gun range, and the ability to get a real feel for shooting a gun without any potential embarrassment, kickback, or gunsmoke.
Children ages 12 years of age or older
Novice or first-time shooters
Expert marksmen and women
Law enforcement and security officers
Gun owners and enthusiasts
Competitive shooters
Groups of friends or colleagues
Corporate events and team building activities
What are you waiting for? We invite you to give us your best shot and see for yourself how much fun and life-like a virtual shooting range can be!
So, if you are looking for something new to try in the Summit, Medina, or Cuyahoga County areas, we invite you to visit EVR for:
Gun training classes
Unique company outings
Entertainment
Skill building
Law enforcement
And more!
Learn more about what to expect when you visit Engage Virtual Range.