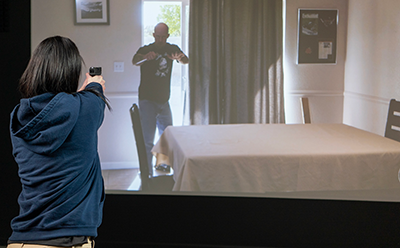 Want to Know How You Can Continue Your Training?
It is one of our core beliefs at EVR that gun owners are never done learning. If you've taken one or more of our Carry with Confidence classes, you might be wondering what you should take next to continue honing your skills. Well, as usual, we've got you covered!
Our core Carry with Confidence series provided you with an introduction to situational training, but now it's time to build on what you learned. We offer two focused extension classes that put you front and center for everyday situational scenarios that let you practice self-defense in the home, in public, and in your vehicle to build muscle memory and improve reaction time.
Extended Self Defense Training Session Overview
These 60-minute, intermediate-level training sessions focus on taking the foundation established in our preliminary Carry with Confidence classes and take it to the next level. Students will spend the bulk of these extended gun training sessions engaging in brand new lifelike shoot/don't shoot scenarios centered around home, personal property, vehicle, and public self-defense. The goal is to get a more well-rounded experience and spend more time analyzing your reactions to specific scenarios.
These courses are an extension of our CwC classes and answer the question of "what's next" in your training. Through unpredictable scenarios, students can understand how muscle memory comes into play during stressful situations and develop the clear judgment necessary to mitigate potentially dangerous real-world situations.
These self-defense firearms training classes are taught in a safe, judgment-free atmosphere to promote learning and build student confidence.
Training Description and Objectives
This hands-on session can be booked on your schedule and taught by one of our professional instructors to give you ample time to practice the skills learned in CCW training and our intro-level course. Course objectives are as follows:
Build on the skills you gained in our core Carry with Confidence series
Provide the student with new, challenging, and thought-provoking scenarios
To learn the skills to mitigate potentially dangerous situations within the home
To understand the importance of developing muscle memory
Upon completing these courses, students should feel even more confident in their self-defense abilities. They should understand the importance of creating muscle memory in a real-world setting. Most importantly, they should grow confident in their abilities to protect their homes and their personal property from intruders.
Prerequisites
Students must have a valid CCW license to participate in the EVR Carry with Confidence situational training series
Successful completion of Carry with Confidence Intro Training
21+ years old