Whether it's a reward for finishing a major project, a way to kick off the new quarter, or an event to impress potential clients, company and corporate events are an essential part of boosting team morale. But, you've tried bowling, you've rented out restaurants, you've gone to sporting events, and you've even resorted to searching for "company outings near me" in Google. It's time to try something different. EVR is the perfect choice for your next company outing! It will teach your employees relevant skills while helping them blow off steam and engage in some healthy competition.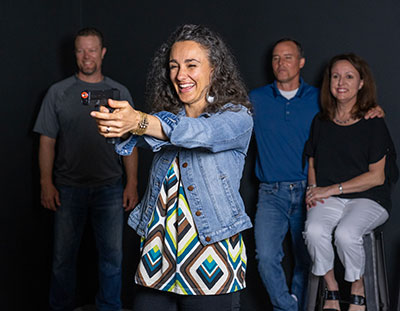 Engage Virtual Range private events are specifically designed to take the stress out of planning and put the fun back into work "fun"-ctions.
What's Included
Every company event at Engage Virtual Range is explicitly tailored to your business needs and goals. We want to make your event successful, fun, and educational.
For every company event, we offer:
Private event options that are closed to the public
Professional instruction so participants can learn while having fun
Option for food catering
Presentation facilities and equipment available
Personalized signage, content, and playlists
While we aren't necessarily your average choice for a company event, we are one of the most fun! Our virtual shooting bays are designed with enormous HD screens with full surround sound. Your employees and clients can engage in classic arcade games, including Duck Hunt, or test their skills through target practice or steel challenge simulations. If you're worried about it not appealing to all of your employees, it is the mission of EVR to cater to everyone from the first-time shooter to the professional sharpshooters.