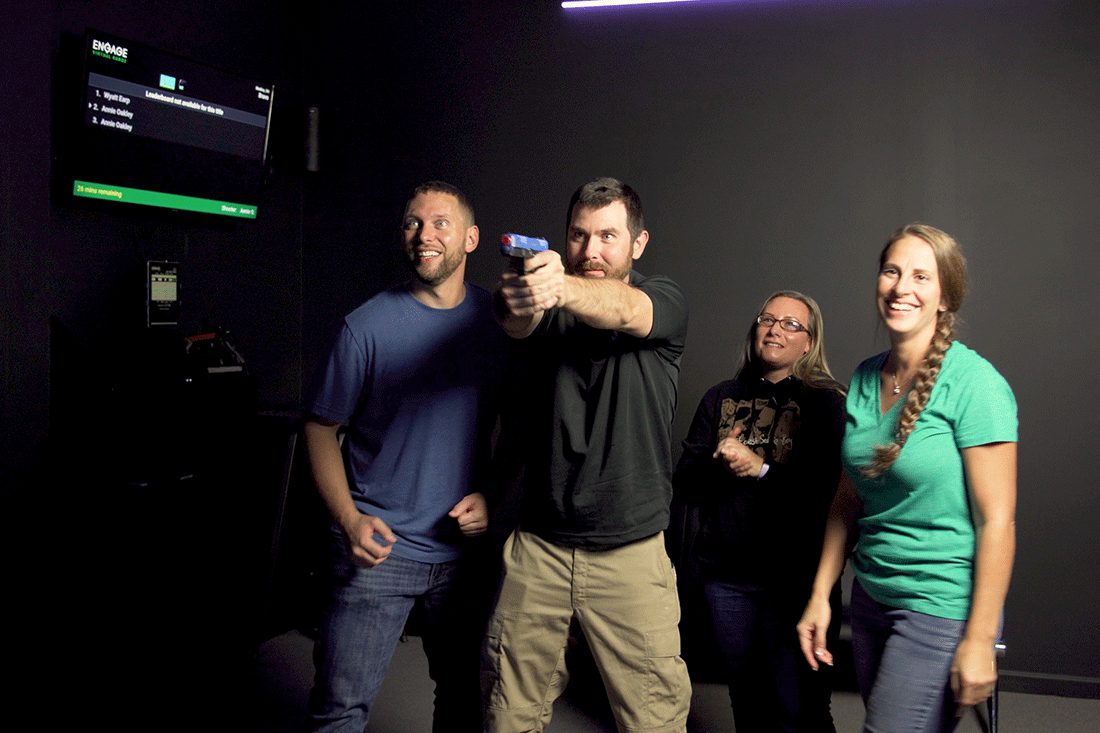 It happens. Your company is so focused on the bottom line that employees are burned out, morale is at an all-time low, and people struggle to stay motivated.
It's time for a break from the routine.
Your employees step up every day, adjust to changing priorities, and continue to produce results for your company even when it's difficult. That deserves to be rewarded! And that's exactly where EVR comes in.
Corporate Events Done Differently
While your normal holiday parties and huge celebrations are great, they are overdone. They are forced fun that usually ends in horrible memories for everyone involved. Engage Virtual Range has made it possible to change all that. Company outings can still be fun! We offer a unique, fun, and team-building experience in an environment that promotes safety and takes every necessary precaution.
Our virtual shooting range is fully equipped to handle private events, with groups of 8 or more having the entire facility to themselves! Our spaces are large enough to practice social distancing, and you can learn more about the precautions we are taking to keep our employees and your employees safe here.
Here's what you can expect at a company outing planned by EVR:
Turnkey event planning - all you have to do is pick the date and time.
Catering options available
Personal instruction so participants can learn while having fun
Personalized signage, content, and playlists
Creative ways to maintain social distancing while still feeling connected
Friendly competitions that are unique and customized for your group
The best thing about Engage Virtual Range is that there is no experience necessary. Some events can be a little polarizing for your employees who aren't athletic or competitive, but shooting is appropriate for every skill level. In fact, many people walk away from their time at our virtual gun range feeling like they gained some valuable skills while having fun!
Conveniently located in Medina off of I-71, teams can easily travel from Summit, Cuyahoga, or Medina County for a corporate event or team building event that is outside the box. Your team can finally spend some much-needed face-to-face time in an environment that is fun, competitive, safe, and best of all, encourages them to blow off some steam.
Contact us to learn more about the fun company outings and events at EVR and how we can safely help you plan an event for your team.