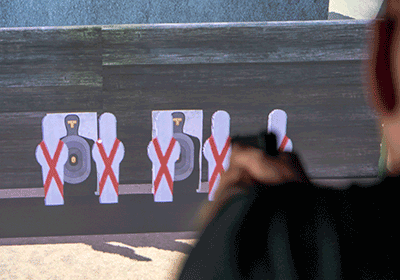 Calling all gun enthusiasts! Engage Virtual Range is hosting a 2-Gun FREE Ammo Shootout at our Medina and Avon Lake locations. Join us anytime in June to test your skills on a realistic sim rifle and handgun.
Did you know ammo prices have been going up since last year? Right now, a round of 9mm ammo costs as much as $1 each! Save your ammo and use our FREE and unlimited ammo. You can have just as much fun with none of the additional cost.
And if you're not a top shot, don't worry! There are still many ways to win and have fun in this tournament, even if you aren't a sharpshooter. EVR has and always will be a judgment-free zone, so don't be afraid to pull the trigger and join this tournament.
Prize Pool - $5.00 of every participant.
1st place – 100% of the prize pool AND 100 rounds of your choice of 9mm, .40, or .45 caliber ammo from our sponsors at Firestorm Gear
2nd place - $50 EVR gift card
3rd place - $25 EVR gift card
**For those who do not place in the top 3, your name will be entered in a drawing for a 1-hour reservation for 2, a $70 value!
Reservations are required.
Make a reservation anytime in June on a date and time that is convenient for you.
Each one-hour reservation will include practice with both weapons assisted by one of our qualified instructors, plenty of encouragement, and guaranteed fun.
When checking out, select a 60-minute length of time and the reservation type of "2-Gun Free Ammo Shootout."
Competition Format (What to Expect)
During your 60-minute reservation, the first 30-45-minutes will focus on practicing
IDPA courses
. 15-minutes is reserved for you to "compete."
Gun and safety review (only if needed)
EVR Exercise - Familiarize yourself with the sim guns and technology
IDPA warm-up
IDPA competition entry:

2-gun format
Shoot the first half with a handgun
Shoot the second half with a sim AR rifle
Cost to Join the 2-Gun Free Ammo Shootout Competition
$75 – 1 person
$90 – 2 people
$105 – 3 people
$120 – 4 people (max participants)