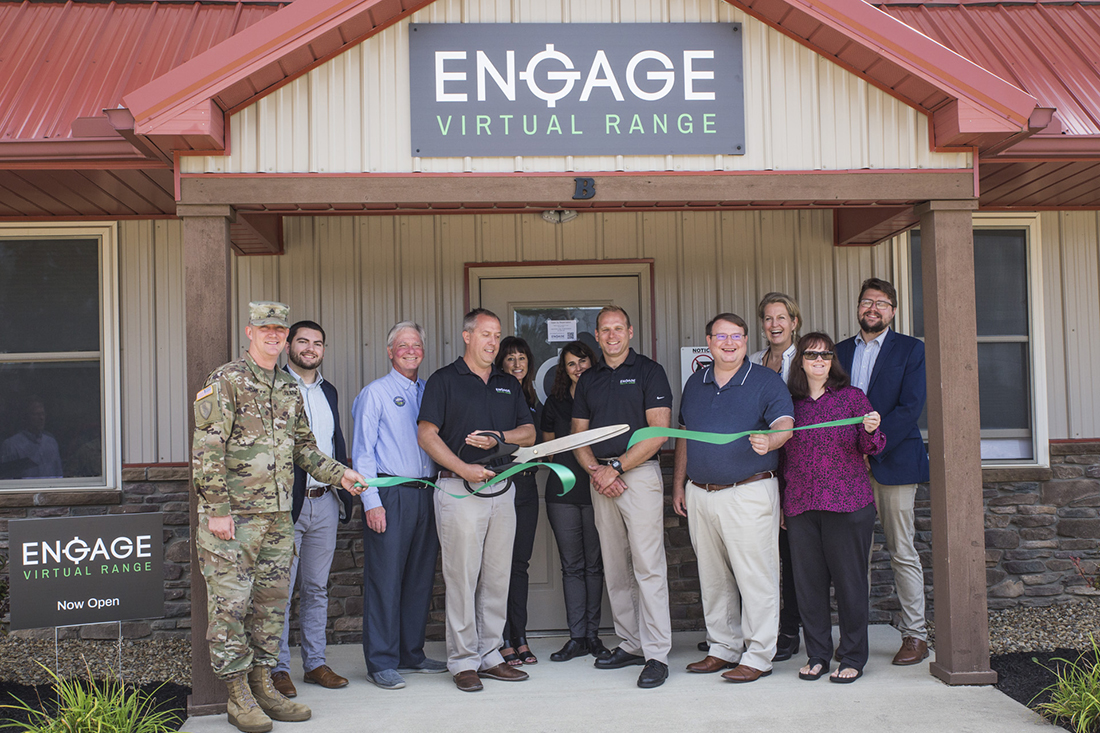 Thanks to all for Joining Us at Our Grand Opening Celebration for Our Medina Location
It's been a long road from conception to reality, but we couldn't be happier that we were finally able to celebrate all of our hard work and for finally opening the doors at our Medina Engage Virtual Range location.
We started EVR to create an all-inclusive place for shooters of all skill levels to learn the basics of shooting a gun, gain confidence in handling and firing a gun, and hone valuable skills that translate to the real-world. As avid shooters, we know how intimidating traditional gun ranges can be, and this was our chance to make shooting accessible to everyone.
Grand Opening Celebration
While we started taking reservations in August, we finally could officially open our doors to the public at our grand opening celebration in September. The response we got from friends, family, and the nearby community was overwhelming. More than 150 people came through our doors and were able to test out our state-of-the-art technology, tour our shooting bays, and experience what it was like to fire a sim gun at a 12' x 7' HD screen with full surround sound.
People who had never heard of us before were impressed and excited by the potential of a virtual shooting range in the area. Our virtual range is great for professional shooters looking to train for upcoming events (and who can't rely on the weather in Ohio). It's ideal for law enforcement professionals looking for a place to get real-world training, and it's perfect for entertainment-seekers looking for their next thrill!
One attendee said about the event, "it's so exciting to see such a unique business open its doors in our community. It's not often you can find people who are so passionate about creating the perfect balance of offering valuable, necessary education with the opportunity to have so much fun."
At our grand opening celebration, we gave away more than $500 in EVR prizes, booked countless reservations on-site, and allowed visitors to be the first ones to purchase gift cards for one-of-a-kind gifts. Guests got to meet our entire staff and learn more about all of our new location's unique simulations.
How You Can Get Involved
Even if you missed our grand opening celebration, there are still ways you can get involved to help us launch our small business!
Buy a Gift Card - If you know someone who would love to give our virtual gun range a try, consider buying them a gift card. The holidays are right around the corner, and it's never too early to shop.
Book a Reservation - Grab a few friends or co-workers and book a session at EVR. All of our sessions are 60 minutes (with the opportunity to rent more time as needed), and our bays can accommodate up to 4 shooters at a time. We offer flexible scheduling, and you can do it right from our website.
Follow us on Social - Even though you missed our grand opening celebration, you can bet we will have more events, specials, and contests coming up in the future. Follow us on Facebook, Twitter, and Instagram.
Spread the Word - Even if you aren't sure our facility is right for you, you might have friends who could benefit from all that EVR has to offer. Share our small business with your friends and help us grow!
Interested in finding out more about EVR? Learn more about our co-founders and were the inspiration for EVR came from.