Course Description and Objectives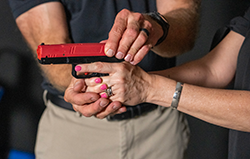 This interactive course starts with a lecture from a trained Engage Virtual Range (EVR) course instructor who will teach up to 6 students in a classroom-style situation. The course includes a hands-on training session where students will participate in several simulation exercises, including basic target practice and course of fire.
Course objectives are as follows:
To master traditional range and safety rules.
To illustrate the parts of a pistol.
To develop a basic knowledge of how to use a pistol.
To practice the basics of marksmanship.
To build confidence in the handling of a pistol.
To illustrate how a virtual gun range differs from a traditional live-fire range.
At the end of the class, students should be able to properly identify the basic parts of a pistol, understand how to aim and control the trigger, and walk away with a working knowledge of the benefits of using a virtual gun range.
We welcome students ages 12+ to attend this class.
---
Want a private version of this training? We have several options available. Contact us for more information.
---
IMPORTANT: There are absolutely NO live firearms or ammunition at our facility. All instruction and class participation are done using realistic sim guns.