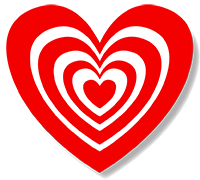 Ready, Aim, Fall in Love at EVR
Have you been struck by Cupid's arrow? Why not shoot back?! You know what they say, love is a battlefield! This Valentine's Day, skip the flowers and chocolate and do something unique with your special someone.
Ready, Aim, and Fall in Love in the Second Annual Valentine's Day Shooting Competition at EVR.
2nd Annual Valentine's Shooting Competition
Make a reservation anytime on February 12th, 13th, or 14th to be eligible to compete in our couples' shooting competition. Enjoy the chance to win one of four pretty exciting prizes, all while enjoying valuable time together!
But this event is about more than just winning! You and your special someone gets the chance to step outside of your routine, engage in some healthy competition, learn new skills together, and have fun! Make memories and find a new way to connect this Valentine's Day. Perfect for all skill levels!
Each couple gets:
Personalized and professional instruction
60 minutes of uninterrupted shooting time
Custom shooting competition you will "love"!
Roses for the ladies
Cost:
$85/couple
Early bird discount! - $75/couple if you book before 2/1
Hurry, this competition sold out last year!
Winner's Prizes:
1st - $100 in Ohio Lottery tickets to "get lucky in love."
2nd - $50 EVR gift card
3rd - $25 EVR gift card
Plus, all couples will be entered into our Love at First Bite Drawing for a chance to win a $50 gift card to use for a romantic dinner at
Square 22 Restaurant and Bar
in Strongsville.
How to Participate
Reservations are required to ensure social distancing. Read about all of our safety protocols.
Make a reservation for February 12th, 13th, or 14th at a date and time that is convenient for you.
When checking out, select a 60-minute length of time for 2 people and the reservation type of "Valentines Couples Shoot."
Competition Format (What to Expect)
During your 60-minute reservation, you can expect
Gun and safety review (if needed)
EVR Exercise - Familiarize yourself with the sim guns and technology
50 minutes of uninterrupted shooting time
2 attempts at shooting our custom Valentine's course for 10 minutes. The sum of each person's highest score will count as your "final" team score.
Loads of fun with your significant other!