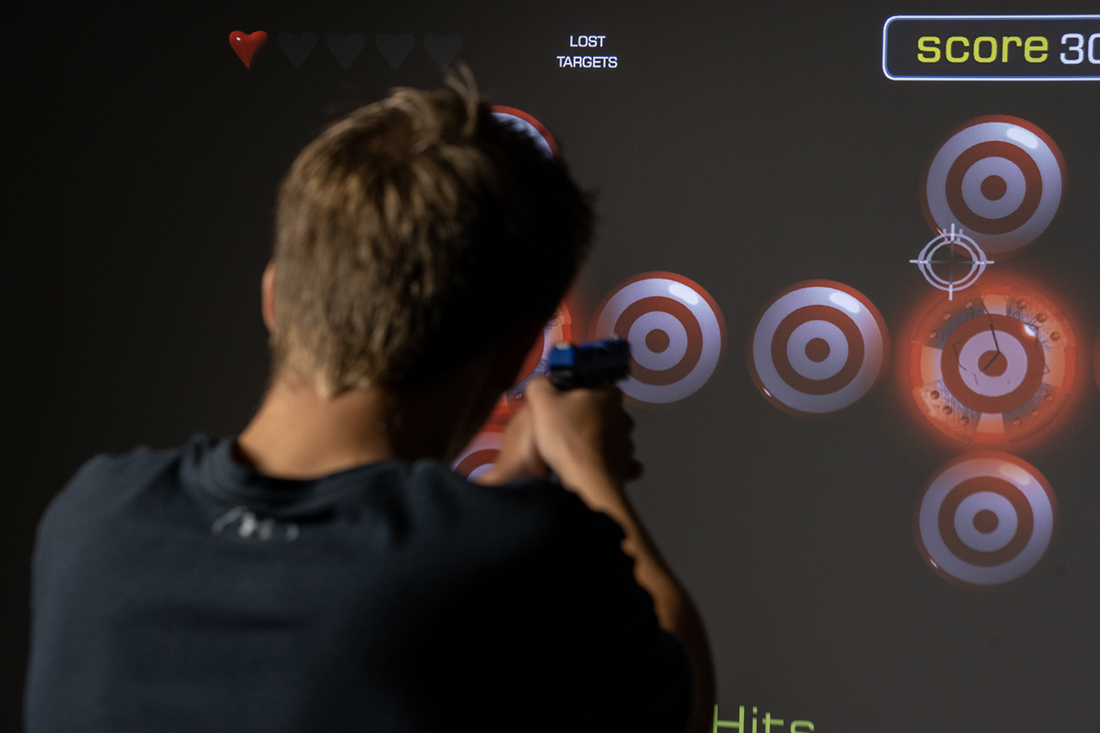 Find Out Why You Should Visit Engage Virtual Shooting Range
You've tried escape rooms, you've tried karting, and you've tried ax-throwing. You're looking for the next big trend in interactive and immersive experiences. Well, it's safe to say that Engage Virtual Range is unlike anything you've ever done before. Whether you plan a guy's night out, a date night, or looking for something fun and competitive to do with your teenage children, this is it.
Engage Virtual Range combines the best aspects of a traditional shooting range with the safe, non-judgmental atmosphere you want and need. If you have never experienced the adrenaline you get from shooting a live-fire gun, our sim guns are the next best thing.
Our high definition, 12' x 7', fully surround-sound shooting bays immerse you and your friends in virtual technology that is engaging, responsive, and most of all, fun. You get to experience the look, feel, and sounds associated with shooting a live-fire gun - even the recoil - without the risks and simplicity associated with a traditional range.
Our virtual gaming technology features next-level entertainment that turns games like the beloved duck hunt into an interactive scenario with you and your friends at the center. Our entertainment scenarios go well beyond traditional virtual reality to offer you a fully life-like and engaging experience that will teach you a thing or two.
What Makes Our Virtual Gaming Technology Different?
Have you ever gone to Dave and Buster's, Scene75, or a similar gaming complex for date night? Engage Virtual Range takes traditional video gaming off the screen by making you a part of the action. You're in control of when to shoot the gun, how to shoot the gun, your positioning, and what titles you play. There's no cheating because every shot you make is registered, scored, and displayed on a leaderboard for all your friends to see.
The competitive virtual gaming technology at EVR allows you to choose from hundreds of different simulations that provide countless hours of entertainment and valuable skill-building. Just some of these scenarios include:
Steel Challenge
Prairie Dog Hunting
Zombie Hunting
Target Shooting
The Saloon
Pirate Ship
Speed Challenges
Darts
And more!
One of Engage Virtual Range's unique aspects is that while you are having fun, you are learning valuable skills that can translate to everyday life. Grow comfortable handling a gun, experience the recoil, improve your aim, improve your overall accuracy, and nail your response time.
Engage Virtual Range is meant to serve many purposes and audiences. It is totally up to you. Have a night of competition with friends or spend the night learning valuable skills that can help you build confidence and comfort. EVR is a fun, competitive, and educational experience uniquely different every time you come.
Ready to give your best shot? Visit Engage Virtual Range to test your skills and have a whole lot of fun doing it Simply book online today.